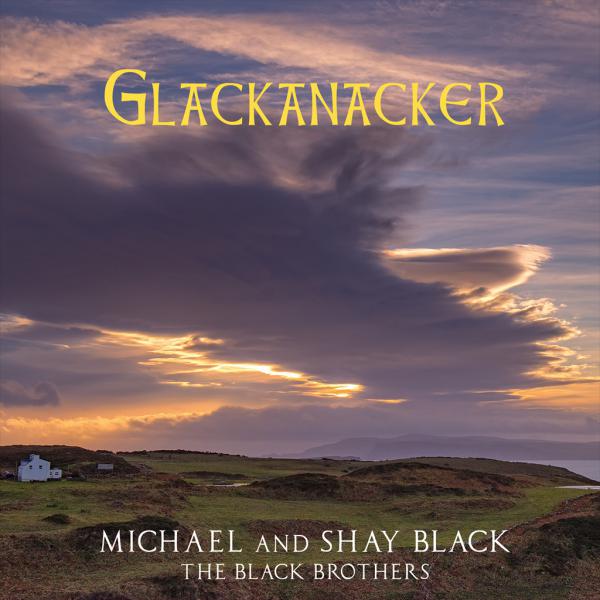 2020
Shop
Digital Download
12.99 USD

Available in:
MP3 audio (320kbps)
M4A audio (256-320kbps VBR)
Reviews
Album Review: Glackanacker
Two weeks ago, we were pleasantly surprised when we saw an announcement on Facebook from Shay and Michael Black, that their new album, Glackanacker, was available for pre-order on their website, black-brothers.com. This week we were delighted and extremely privileged to receive a review copy.
This release is packed with a dozen of the great, traditional and contemporary songs we've come to expect from the Black Brothers, but two of them struck us as particularly poignant The Man From the Daily Mail, and Exile's Return.
[...]
All together, really good music!
> > > Read full review in the Library
Glackanacker: A Black Brothers Beauty
The Black Brothers, Shay and Michael, have made their homes in the San Francisco Bay Area for many's the year now, where they are the backbone of the local live Irish music scene. They normally play a series of shows around Northern California early in the Spring. This year's gigs were cut short by the arrival of Covid-19 but fortunately, the brothers had completed a brilliant new album, Glackanacker, before the pandemic, placed everyone under house arrest.
Their new album opens up a whole new sonic landscape. Their voices, bright and pure, are paramount: there are two tracks where the voices alone are the instruments. But the CD is suffused with a richly textured sound palette launched by John Doyle's bouzouki underlay and Mike McGoldrick's pipes and whistle on the first track, Home by Barna. Doyle produced the album and his care for every musical detail is omnipresent. As a fine singer and songwriter himself, he knows how to present songs with the best possible setting and arrangement.
[...]
The album will enhance your appreciation for artists like the Black Brothers and their musical community who grace this CD. The brothers are the real deal, musicians with day jobs and families, who are deeply committed to playing and performing at the highest level. They take their responsibility to entertain seriously (expect to sing at their shows) without ever taking themselves too seriously. And, they rarely turn down opportunities to play for good causes.
This joyful album will lift your spirits, raise a smile, and might even inspire a desire to visit Rathlin when international travel reopens. It will certainly make you long for the time when the Black Brothers and many other artists can play live concerts again.
> > > Read full review in the Library
Review of Glackanacker
Wonderfully diverse songs from the esteemed San Francisco-based Shay and Michael Black in a CD where the highly-acclaimed producer, musician and composer John Doyle trusts and draws upon the uncluttered flow of emotional meaning in their singing.
FolkWord #73 - The Black Brothers - Glackanacker
Brothers Shay and Michael Black belong to the renowned musical clan that also comprises their siblings Mary and Frances. They inherited their musical talents from their multi-instrumentalist father Kevin who originally came from Rathlin Island off Northern Ireland's coast but ended up in Dublin in the 1940s. The Black Brothers, Shay and Michael, got inspired by the luminaries on Dublin's abundant folk circuit, The Dubliners, The Johnsons, Moore & Irvine, to name just a few. They also incorporated Scottish songs to broaden their repertoire. Things became serious in 1978, their first paid gig in London, followed by three months busking in the US. The rest is history, as they say, Shay and Michael performing regularly ever since - besides 9/5 jobs and raising families in their adopted homes in the San Francisco Bay area. They accompany themselves on guitar and banjo, supported by a who's who of Irish and Scottish music (John Doyle, Mike McGoldrick, John McCusker, Mick McCauley, Rick Epping) who insert their lifeblood and energy. The Black Brothers' singing is captivating, enhanced by varied input from the entire family - Mary, Frances, Martin, Roisin O, Aoife Scott, etc. Their song spectrum is broadly based indeed, including traditional Irish ballads ("Fiach An Mhadra Rua"), broadside and music hall ditties ("Muirsheen Durkin"), sea shanties ("Essequibo River") and contemporary folk songs ("Green Among The Gold"). There are stories that bring tears to the eye, and those that make you grin. What a delight!